Shoe sizes should help us to find our perfect shoe fitting, but unfortunately the important shoe sizing systems from Europe, UK & US are creating lots of confusion.
In the previous post "Why my shoes don't fit? (Foot Problems)", we have discussed, what could happen to our feet and health, if we continuously wearing wrong-fitting footwear.
Now obviously, shoes are marked by shoe sizes, but what are all these different shoe sizing systems actual mean? If you're looking into your sports shoes,  you will see, that shoe sizes are classified in different, regional shoe sizing systems. The most important ones are the US-, the UK- and the European shoe size systems.
These shoe size systems are creating more confusion to us than giving valuable information! They are having their roots back to the first century and the Roman Empire! No joke!
Somehow around the 12th Century the barleycorn shoe size system was invented and the UK and the US are using the barleycorn measurement unit for their shoe sizes up today! One barley(corn) unit is 1/3 inch long. (It seems, that genetically modified food processing was already at those times of importance!)
How does the Barleycorn shoe sizing system works?
The British shoe sizing system starts with 0 and is 4 inch long. For every size up 1/3 of an inch or one barleycorn size is been added up to size 13, then it starts again from 1, where the gap from one size to the next remains with 1/3 inch.
The legend says, that the Americans seemed not to be happy with this shoe sizing system and decided that nothing can start from zero, like the British shoe sizes. It has to start from 1, with the result: the US size is one size up to the British. A size "9" in the UK is a size "9.5" in the US. Unfortunately, this "simple" system differ in gender for American women shoes, here the difference is 2 sizes up to the British system. For example, a size 10 in America would be a size 8 in Britain. Most likely this is not at all helpful for the customer, but that's how it is.
Europe, of course without the British again, is following the measurement system of Paris Point. Never heard of it? Well, we've got already the impression from UK and US, that shoe sizing systems are not meant to be customer friendly – no surprise here as well.
Anyhow, one Paris Point is equal to 2/3 of a centimeter or 6.6 mm long. To find out the last length for each size with Paris Point you start with the largest size for gents, which is size 50 and 335 mm long and start counting backward for each size 6.6 mm. For ladies, I suggest starting  with a small size, like 32 which is 215 mm long and start counting forward. If you have a calculator it might be easier to simply multiply the shoe size with 6.6 mm.
But what is really too bad about all these different systems, is that they are all about the shoe-last length and not about our foot-length, apart from that the fact, that really nobody understands what is their intrinsic meaning.
The shoe varies by its length – according to the design. It's wrong to assume if a shoe last is of "length x" and then the shoe size should be "size y". It's so obvious, look at this:

Left you see a toe-pointed shoe; it has a long toe allowance of approximate 25 mm or even more, the moccasin has a  rounded toe with an allowance of approximate 10 mm or even less and the sandal has short toe allowance of approximate 5 mm only. Nowhere you can find the information how long the shoe last is, which is been used for these three shoes.
Now the industry has tried to help out this fix, they came up with the conversion tables. The whole Internet is full of them. We've been asked us to measure our foot, use a conversion table and see what shoe size we have. Now let's have a look, here are two different conversion tables for shoe sizes: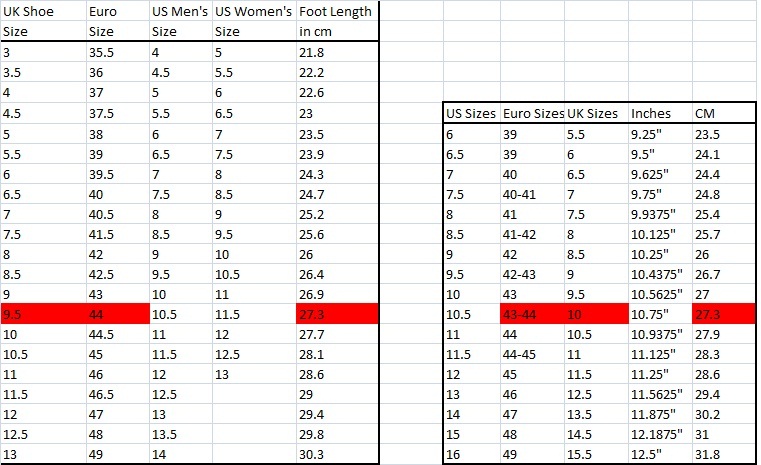 Let's assume our feet is 27.3 cm long, we can see, that there are differences in the two tables for the UK size system as well for the European size system, even though they are not big. The fact remains, that there is nothing like the one and only standard.
It gets even worse: many manufacturers over the time build up their own shoe sizing system with the intention that their footwear would fit with their customers better. Well thought, but standards are working not like that!
The industry is building shoe-lasts with a standard last-length-system, but there are no standards for foot-length vs last-length, this depends entirely on the shoe design.
Of course the industry is aware of this problem and came out with their final shoe sizes system: Mondopoint.
More about this cracker in the next post about Mondopoint. Please feel free to leave your comments or download the free e-book shoe guide with measurement instructions.
Andre Gerdes ( the shoe-size confused )